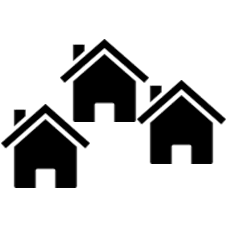 About Our Community
Tourism, Shuls, Kosher Food, Schools, Jewish Life
Detroit, Michigan
Visiting Detroit
The Greater Detroit community is home to a variety of interesting tourist attractions, including Belle Isle, a 1,000 acre island park that houses the nation's oldest fresh water aquarium, a breathtaking conservatory, and many beautiful bike trails. Nearby Dearborn is home to the Henry Ford Museum and Greenfield Village, one of the top ten tourist attractions in the nation. Windsor, Ontario, Canada is less than a mile across the Detroit River.
Jewish Life in Detroit
Jewish life is vibrant in the Greater Detroit area. Jewish communities in Oak Park, Southfield, Huntington Woods, Farmington Hills, and West Bloomfield are all growing. Communities have their own eruv hotlines: Oak Park and Southfield (248-968-3788), Young Israel of Southfield area (248-788-7878), and West Bloomfield (248-855-6170).
Synagogues
Many shuls are spread throughout each of the communities. Some of the shuls in the Oak Park and Southfield areas include Young Israel of Oak Park at 15140 W. 10 Mile Road (248-967-3652); Mogen Avraham in the Yeshiva Beth Yehuda Building at 15751 Lincoln Road (248-552-1971); Dovid Ben Nuchim-Aish Kodesh at 14800 Lincoln Road (248-569-0192); Ahavas Olam at 15660 W. 10 Mile Road; Bais Chabad in North Oak Park at 15401 West Ten Mile Road, Beth Tefilo Emanuel Tikvah at 24225 Greenfield Road (248-559-5022), and Bnai Israel Beth Yehuda at 15400 W. 10 Mile Road (248-967-3969). In the Lahser area of Southfield, Young Israel of Southfield is at 27705 Lahser Road (248-358-0154). In the West Bloomfield and Farmington Hills areas, some of the shuls include Bais Chabad Torah Center, headed by Rabbi Elimelech Silberberg, at 5595 West Maple Road, West Bloomfield (248-855-6170), and Bais Chabad at 32000 Middlebelt Road, Farmington Hills (248-626-3194).
Kollel Institute of Greater Detroit
Community Institutions
The city has several kollelim for full time learning including Yeshiva Beis Yehuda Kollel in the Yeshiva Beis Yehuda Building in Southfield; Yeshiva G'dola Ateres Mordechai in Oak Park, the community Kollel Institute and the DBN Kollel, both on Lincoln Road in Oak Park, and Beth Tefilo Emanuel Tikvah in Southfield.
The Beis Din of Greater Detroit is operated by the Vaad HaRabbonim / Council of Orthodox Rabbis, located at 18877 West 10 Mile Road, Southfield, MI 48075, or visit www.cordetroit.com.
A community mikvah for women, Mikvah Israel (248-967-5403), is located on 10 Mile Road in Oak Park. Separate facilities are also available for men.
Kosher Dining
The Vaad's Kashrus division, the K-COR, certifies retail stores and restaurants, commercial production lines, and caterers. For a list of restaurants certified by the Vaad's K-COR kosher division, visit cordetroit.com/k-cor/dining.
Kosher Shopping
For groceries and related items, Detroit's Jewish community has several stores and bakeries, including One Stop Food Market which has kosher deli, fish, meat and bakery departments (25155 Greenfield, Southfield; 248-569-5000); Zeman's Bakery (25258 Greenfield Road, Oak Park; 248-967-3905); Bake Station (30760 Southfield Road, Southfield; 248-723-9000 ) and Bake Station Too (6663 Orchard Lake Road, West Bloomfield; 248–626–9000). Grocery stores throughout the area include a wide selection of kosher options.
Education
The Detroit community has several religious day school systems, both elementary and high school. Yeshivat Akiva, for boys and girls in early childhood through high school, is located at Evergreen Road and 12 Mile Road. Yeshiva Beth Yehudah for boys through eighth grade is located on Lincoln Road in Southfield, and its Bais Yaakov through High School facilities for girls are located at West 10 Mile Road and Church Road in Oak Park. Yeshivas Darchei Torah, also available for boys through eighth grade and girls through high school, is located at Lahser and 13 Mile Road. The Mesivta of West Bloomfield boys' high school is located on Walnut Lake Road in West Bloomfield. The Yeshiva Gedolah high school is located in Oak Park on Greenfield Road.